---
Tweet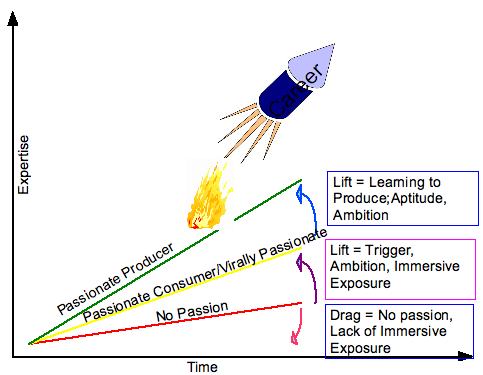 Updated Oct 10, 2008 – Nirmala, a KM professional joined the conversation with several insights on her blog. Thanks for the link Nirmala.
Prolog:
Teaching passion is one of my favorite areas. I started thinking about this again because i felt we have not been able to package the superb discussion that this topic has generated. Lots of people contributed to the discussion, but the main sparks were – Larzini's Viral Passion idea, Milind Sathe's Trigger, Sujatha's 3 categories of people, Priya Raju's Big Picture , Ganesh's Learnt Vs. Taught and finally Archana Raghuram's passive passion.
That insightful comment of hers has been ringing in my head for a while now. A few days ago, the proverbial light bulb went off in my head.
3 levels of passion
Where does being passionate about something lead you? It makes you better in that chosen area and depending on the degree of passion you have, you can truly become a world-class expert in that area over time.   The light bulb moment occurred to me, when i realized the connection between expertise and passion.
1. No passion – you just like music or cricket or dance or whatever, but the liking is not strong enough to even be at the passive passion level. In this case, the expertise over time grows at a snail's pace. This is the lower most trajectory in the diagram above.
2. Passionate Consumer – you are passionate about something – you have a strong/distinct liking for the topic. You start gaining expertise. This is the second trajectory in the middle. Expertise grows more rapidly over time compared to the no-passion category.  For instance, i am passionate about music, and due to that i know a bit about music. I could not call myself an expert, but i know enough to separate the wheat from the chaff.
From Larzini's comment, you can say that people that are virally passionate are also at this level. They are passionate about something, they do produce, but not yet that passionate – thanks to the infectious passion of the leader or a friend or a trigger or a powerful goal/vision.
3. Passionate Producer – You are so passionate about something, that you actually start producing/practicing. If you are passionate about paintings you start painting etc. The act of doing something/producing something that can either be self-critiqued or critiqued by others creates a powerful feedback loop in your brain pushing you to a greater and greater degree of excellence in that topic.  This is the third trajectory in the diagram above which shows expertise growing much more rapidly.
How to become passionate?
If you integrate all the 3 categories, you can see that exposure to new topics can help build passion, immersing yourself in that activity can increase the passion to the 2nd level and starting to produce can take the passion to the next level.
Ambition can provide the fuel for passion. In the corporate context, setting a powerful goal or creating a powerful vision can be that fuel to create viral passion. In all 3 levels, associating oneself with passionate people can have a great impact. Even if you are an expert, associating with other passionate experts can increase your expertise further.
A sense of competition can help create powerful goals/visions. As long as the competition is healthy, competition is a great driving force.
Although, technically you can become an expert in anything you choose to apply your passion to, making sure you have the aptitude for the topic, is important. Again a wide-ranging exposure may help you determine the things that you have the natural flair for.
Career
Recently we did some surveys inside our company and we found that passionate bloggers and passionate musicians (our Euphony band that i talked about) are top performers in the company. Once you are a passionate producer in something, that rubs off on everything you do including your job. If you look at it from another point of view, you have figured out how to build world class expertise. So you can apply that ability to gaine expertise to your career.  Career progresses when your expertise in the job improves.
If you are a leader, you can use this insight to make your team passionate about any type of producing activity (may not be business related) and then transfer that passion onto the company's business. Aside from this, also explain the big picture, ambitious goals/vision to light the fire.
It is this fire that can launch the rocket ship as indicated in the diagram above.
Conclusion
In sum, passion can be taught, scratch that, it can be learnt. And once you are passionate, success follows.
Epilog:
I am sure there are some gaps in this. What do you think?
Notes & References:
1. The diagram above is an attempt to summarize this post – inspired by Kathy Sierra – Creating Passionate Users.
3. Why effort/practice is more important than talent.
4. Are you an expert? – Charlie Munger's wisdom on the topic.
5. For a neuroscientific rationale for why feedback improves performance/expertise – ABC Theory.
6.  To be accurate, each of the 3 lines in the above diagram should be an S Curve. I chose straight lines for making the diagram simpler.
---
Trackbacks & Pingbacks
Quora

trackbacked Posted January 25, 2011, 7:20 am

What do you do if you're ready to quit a 9-to-5 job but don't have an idea that you're passionate about?…

Saying that passion is a key ingredient is to state the obvious. But like yourself I have no preconceived passion. I work passionately on whatever it is I decide to do. For people like you and me this strategy works better instead of trying to find the…
Comments
Leave a Comment